75 Days, Grand Journey: Southeast Asia & Africa
on Crystal Symphony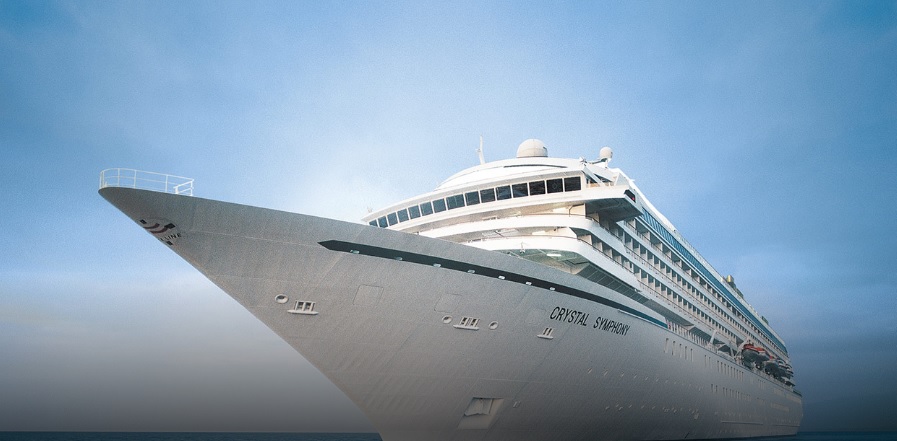 75 Days, Grand Journey: Southeast Asia & Africa
Enjoy multiple overnights in Thailand, Vietnam, Singapore and Malaysia; discover the mysteries of Myanmar and beauty of the Philippines; see UNESCO wonders in Sri Lanka, eco-treasures in the Seychelles and embark on safaris in Africa.

Since the beginning, Crystal has been the standard-bearer for excellence in luxury travel, remaining the undisputed choice among the savviest world travelers. Today, we are redefining it altogether, expanding the possibilities for our guests with choices, experiences and luxuries unmatched in the industry. By Ocean, River, Yacht, Expedition and Air, each Crystal Experience is designed to showcase the world and its wonders in the most remarkable ways. Join us as new adventures unfold...


| Day | Destination | Arrive | Depart |
| --- | --- | --- | --- |
| Wed | Bangkok/Laem Chabang, TH | | 05:00 PM |
| Thu | Koh Samui, TH | 08:00 AM | 05:00 PM |
| Fri | Sihanoukville, KH | 07:00 AM | 08:00 PM |
| Sat | Cruising The South China Sea | | |
| Sun | Ho Chi Minh City (Saigon), VN | 08:00 AM | |
| Mon | Ho Chi Minh City (Saigon), VN | | |
| Tue | Ho Chi Minh City (Saigon), VN | | 03:00 PM |
| Wed | Cruising The South China Sea | | |
| Thu | Singapore, SG | 07:00 AM | |
| Fri | Singapore, SG | | |
| Sat | Singapore, SG | | 07:00 PM |
| Sun | Port Kelang (for Kuala Lumpur), MY | 08:00 AM | 07:00 PM |
| Mon | Penang (Georgetown), MY | 08:00 AM | 06:00 PM |
| Tue | Phuket, TH | 07:00 AM | 06:00 PM |
| Wed | Cruising The Andaman Sea | | |
| Thu | Yangon, MM | 10:00 AM | |
| Fri | Yangon, MM | | |
| Sat | Yangon, MM | | 09:45 AM |
| Sun | Cruising The Andaman Sea | | |
| Mon | Langkawi, MY | 08:00 AM | 06:00 PM |
| Tue | Cruising The Malacca Strait | | |
| Wed | Singapore, SG | 06:00 AM | |
| Thu | Singapore, SG | | 06:00 PM |
| Fri | Cruising The Gulf Of Thailand | | |
| Sat | Koh Samui, TH | 07:30 AM | 05:30 PM |
| Sun | Bangkok/Laem Chabang, TH | 07:30 AM | |
| Mon | Bangkok/Laem Chabang, TH | | 05:00 PM |
| Tue | Sihanoukville, KH | 08:00 AM | 08:00 PM |
| Wed | Cruising The South China Sea | | |
| Thu | Ho Chi Minh City (Saigon), VN | 08:30 AM | |
| Fri | Ho Chi Minh City (Saigon), VN | | 04:00 PM |
| Sat | Cruising The Coast Of Vietnam | | |
| Sun | Hanoi/Hongai, VN | 01:00 PM | |
| Mon | Hanoi/Hongai, VN | | 08:00 PM |
| Tue | Cruising the Hainan Strait | | |
| Wed | Hong Kong, HK | 07:00 AM | |
| Thu | Hong Kong, HK | | 06:00 PM |
| Fri | Cruising The South China Sea | | |
| Sat | Manila, PH | 07:00 AM | 06:00 PM |
| Sun | Boracay, PH | 07:30 AM | 06:00 PM |
| Mon | Puerto Princesa, PH | 07:30 AM | 05:00 PM |
| Tue | Kota Kinabalu, Sabah, MY | 09:00 AM | 07:00 PM |
| Wed | Bandar Seri Begawan, BN | 07:00 AM | 03:00 PM |
| Thu | Cruising The South China Sea | | |
| Fri | Singapore, SG | 06:30 AM | 06:00 PM |
| Sat | Port Kelang (for Kuala Lumpur), MY | 08:00 AM | 06:00 PM |
| Sun | Penang (Georgetown), MY | 08:00 AM | 06:00 PM |
| Mon | Phuket, TH | 07:30 AM | |
| Tue | Phuket, TH | | 05:00 PM |
| Wed | Cruising The Andaman Sea | | |
| Thu | Cruising The Bay Of Bengal | | |
| Fri | Colombo, LK | 07:00 AM | |
| Sat | Colombo, LK | | 08:00 PM |
| Sun | Cruising The Indian Ocean | | |
| Mon | Male, MV | 07:00 AM | 04:00 PM |
| Tue | Cruising The Indian Ocean | | |
| Wed | Cruising The Indian Ocean | | |
| Thu | Mahe/Victoria Harbor, SC | 09:00 AM | |
| Fri | Mahe/Victoria Harbor, SC | | 06:00 AM |
| Fri | Praslin, SC | 07:30 AM | 06:00 PM |
| Sat | Cruising The Indian Ocean | | |
| Sun | Cruising The Indian Ocean | | |
| Mon | Mombasa, KE | 06:00 AM | |
| Tue | Mombasa, KE | | 07:00 PM |
| Wed | Zanzibar, TZ | 07:00 AM | 09:00 PM |
| Thu | Cruising The Indian Ocean | | |
| Fri | Mayotte, YT | 07:30 AM | 06:00 PM |
| Sat | Cruising Mozambique Channel | | |
| Sun | Cruising The Coast Of Africa | | |
| Mon | Maputo, MZ | 07:00 AM | 05:00 PM |
| Tue | Richards Bay, ZA | 08:00 AM | 10:00 PM |
| Wed | Durban, ZA | 07:00 AM | 09:00 PM |
| Thu | Cruising South Africa's Coast | | |
| Fri | Port Elizabeth, ZA | 07:00 AM | 06:00 PM |
| Sat | Mossel Bay, ZA | 07:00 AM | 06:00 PM |
| Sun | Cape Town, ZA | 09:00 AM | |
| Mon | Cape Town, ZA | | |